Published: Friday, January 04, 2019 04:09 PM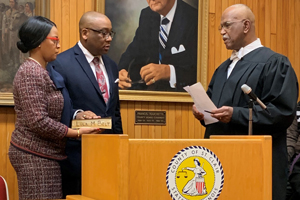 BELLEVILLE – Cahokia resident Christopher Belt was sworn in today to replace State Senator James F. Clayborne Jr. in the Illinois Senate.
Clayborne, who has served the district since 1994, stepped down Jan. 1, and Belt was sworn in early to speed up the transition. The ceremony took place at the St. Clair County Courthouse in Belleville.
"I look forward to hitting the ground running and representing the great people of the Metro East," said Belt, who has been an advocate for the Illinois Metro East for 20 years.
Belt, whose professional background is in law enforcement, started a program called the Difference Makers Professional Organization for youth in the community and authored an educational children's book to teach youth how to be safe and responsible citizens.
He served four years on the board of Cahokia Unit School District 187, including two years as board president.
He is a graduate of Lincoln Sr. High School in East St. Louis and has a bachelor's degree in history from Illinois State University, as well as master's degrees in public administration from Southern Illinois University Edwardsville and in professional counseling from Lindenwood-Belleville.
He resides in Cahokia with his wife, Stephanie, and his children, Christianna and Stephon.
The 101st General Assembly will be sworn in Wednesday, Jan. 9, in Springfield.
Category: Press Releases