Published: Tuesday, January 15, 2019 04:18 PM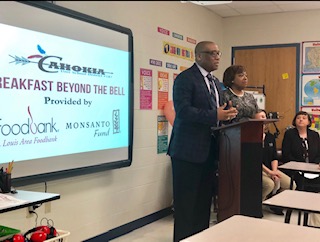 CAHOKIA – State Senator Christopher Belt is commending local school leaders for starting a Breakfast Beyond the Bell program to help students get a nutritious start to the day.
Cahokia Unit School District 187 is starting the free and reduced breakfast program, which is federally funded and will provide breakfast to students who cannot afford it on a regular basis.
"What a noble concept to feed our students when they are hungry," Belt said. "The research has made it abundantly clear that students who eat a nutritious breakfast at the start of their day, academically, do better than students who do not."
The St. Louis Area Food Bank supports the program and will provide a variety of breakfast items to more than 1,000 students two days a week.
Category: Press Releases